Bombay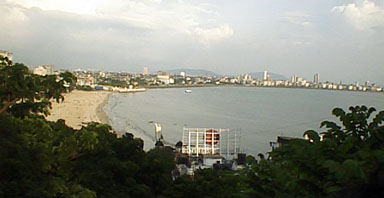 Bay of Bombay from Malabar Hill. Foreground: Chowpatty Beach. Bombay, or Mumbai as it has been renamed recently, is an island (formerly seven islands, slowly consolidated by land reclamation) joined by bridges to the continent, and looks like a peninsula that sticks approximately South into the Arabian Sea. Malabar Hill is a posh residential area in the north end of the bay, and it boasts the Hanging Gardens; just south is Chowpatty beach, where most activity begins at dusk. Further south and east the city is commerce on streets and markets, intermixed with housing, teeming with cars and scooters and pedestrians, and yes, the occasional cow. Near the south end of the bay (Nariman point), turning inland (east) one gets to Churchgate, and a little further northeast is the other large train terminal, VT. Across, the east coast of Bombay is mostly docks, but it still has, further south, the genteel atmosphere lent by the Gateway of India monument and the Taj Mahal hotel. This ultra-posh, most traditional hotel was built early this century by a prominent Indian industrialist, because, it is rumored, he was denied entry to a British-run establishment.
Monumental Architecture
Taj Mahal Hotel; Gateway of India (by G. Wittet) and Taj; Cris at Gateway.
The Taj's lobby; a buggy in front.
At night: Gateway of India; its park with Taj Hotel, background.
Downtown (the Fort): Elphinstone Bldg.; Flora Fountain (Hutatma Chowk: Martyrs' square).
Churchgate station (Western Railway): West and South views.
Victoria Terminus (Central R.); opposite, Municipal Corporation, both by F. W. Stevens.
Commerce is the streets
Street offers: snacks, water, and a full meal cooked before your eyes.
Stores need no store: shoes, clothes, drugstore in a box.
Crawford Market area: fruits, veggies, and much more.
Goods trucks (notice `horn please' signs); hand carts are better in the alleys.
Eating out
Food and Song at Casa Mexico, Oberoi Hotel; Gujarati food at Purohit's, near Churchgate; Leopoldo's, Mahatma Gandhi Rd. (aka Fashion Lane!).
Street snapshots
Crooked streets are common; Posh Malabar Hill apartments.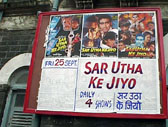 More movies are produced in Bombay than in Hollywood.
Double decker at VT; Bus stop near Churchgate; Inside a cab.
Hanging Gardens, Malabar Hill
A place for people to relax from the pressures of city life...
Couple guarded by rubbish-eating penguin; Vegetarian rhinoceros.
Chowpatty Beach
Cooling off at dusk on the beach; Waterless men doing their wash.
Monkey dances to percussion; Locals take in the show.
Back to news page.
© Cris 1998-Y2K updated 1998/10/04