The Guest House at IIT Bombay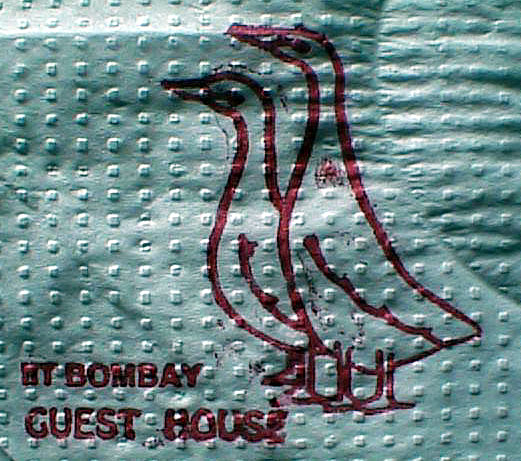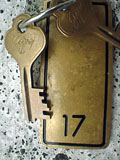 IIT Bombay is one of the campuses of the elite Indian Institutes of Technology, the premier engineering schools in India. Although next to the city of Bombay/Mumbai, it is self-contained: students and faculty live on the beautiful campus, nestled between the Powai lake and the larger Bombay reservoir, and next to a national forest. The architecture of the Guesthouse has a Le Corbusier flavor.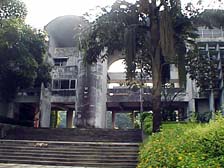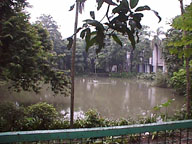 Outside views of the Guest House: front (lake Powai side) and back (swans pond).
Room 17 contains the usual amenities: a small couch, two beds with netting, a nightstand with telephone and lamp, two small desks with chairs, assorted light fixtures, a mirror, a picture on the wall, and a ceiling fan; in addition, this room is one of the few equipped with an air conditioner/clothes drier. The private bathroom deserves its own paragraph, below. Last but not least, there is a large balcony facing Powai lake.
Room 17, door. Notice cup of ``bed'' (early morning) tea, door bolt and padlock.
I found several details interesting. The first one is the door: it has a strong sliding bolt, which one locks with a giant padlock. Inside there is also a fairly large sliding bolt. My first thought was that I could be easily locked inside the room... Later I discovered that big padlocks are quite the rage all around IITB.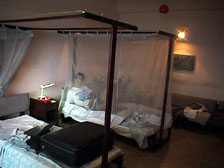 Bed with mosquito net; the little lizard (gecko?) stays in the bathroom.
The beds are also interesting: small, and with a frame above them to hold the nets to keep bugs out. I found them comfortable, and with the ceiling fan set at 5 or 6 (out of 10) there was enough air circulation through the nets.
Thinking in the bathroom.
The bathroom is the greatest, and not only in size (which together with the tiling and sparseness reminds me of the gang showers of my rowing club in Argentina). It is a good space, and preferred home for my roommate the little lizard.
Too many knobs; the shower ones have the wrong colors, the text is true.
It is also a user-interface nightmare, with too many faucets that I don't know how to use, and a very scary large switch for a water heater. It took a while (and a little help) to figure out how to get the hot water routed to the shower, but once that was solved the hot showers were fine. (The trick was that the corresponding faucets had reversed red and blue labels.)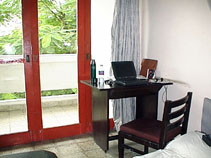 Nice desk with a view
The room is also very suitable to get work done: the phone line is easy to plug into the modem, there's a desk, airconditioning and ceiling fan, and a view...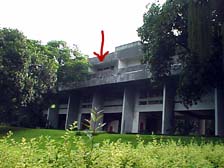 Room 17 from outside
But the best is the view from the balcony... Lake Powai.
And one can go for a walk by the lake... heeding the inevitable warnings.
© Cris 1998-Y2K
updated 98/9/19