London
From Trafalgar Square to Parliament; Parliament Tower and buses.
For many foreigners, England is full of déjà vu; visiting after India, the defunct Empire haunts the visitor more than usual. Place names are tribute to the faraway riches that fueled the explosive growth of this otherwise peripheral island, and London gathers the shine of the former colonies, official or otherwise, in red brick, buses and mailboxes, trains and tube, and in the genteel buildings, where commerce has its temples. Here, the West begins, and not just with the zero coordinate of Greenwich.
London icons: phonebox, double decker bus, classic cab.
Parks and Monuments
National Gallery with artist and phoneboxes; Trafalgar Square, double decker with the musical we saw.
Buckingham Palace: Gate, wrought iron extravaganza; Sausages (this is not NYC); Local limo.
Victoria and bird; Cris dwarfed by Victoria; Toni and Tourists in front of Buckingham Palace.
Buckingham Palace from Green Park side; India Golden Jubilee Bench; Green Park.
Cris and runner at Green Park; learning to bike, Hyde Park.
Useful signs: Hyde Park (``Thieves...''), Green Park; Autumn bikes.
Big Rabbit near Oxford St.; Girl crying on mobile phone, Hyde Park.
Sunday noon at Speaker's corner (notice headgear), complete with American speaker.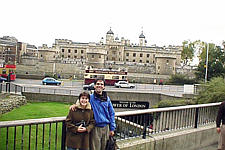 Toni and Cris at the Tower of London
The Tube
Tube station; On train, propriety reigns; Some cars are indeed tube-shaped.
Long escalators, as the tube runs deep underground; A small gap merits constant reminder.
Shopping: Oxford St and environs
Shopping capital: Selfridges, like a temple; H & H: relaxed and formal attire for men.
Cellphoned and arranging display; Cris shopping for a suit.
Parked on Oxford St.: the sixties' British roadster, revisited.
East London: The Docklands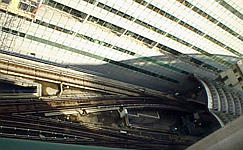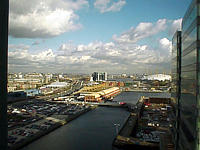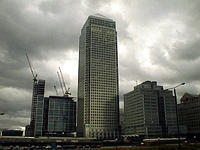 Canary Wharf (Docklands): Docklands Light Rail tracks; docks; shiny corporate offices.
No driver but conductor on DLR; DLR stations views: Millenium dome (East India); Canary Wharf buildings (Blackwell).
Rural life in Eastern London, near Koen & Toni's, Beckton.
At home with Koen: cheese and wine from the Continent....
The Millennium Dome from the DLR.
Greenwich
Clocks in Greenwich: at Royal Observatory; at a shop (what's wrong?).
Greenwich and its parks shine in the Autumn dusk.
The Cutty Sark, forever docked in Greenwich.
Royal Navy School: Inside courtyard (looking E); from across Thames (looking S); Framing Queen's House (S).
Inside the Navy Chapel: anchor and altar; old glass.
Greenwich Observatory: View of Queen's House and RNS; Courtyard; Planetary.
Red, white, and blue mark excellent public restrooms.
Covered market; Gamblers (horse races on TV?); Tax the Fat Cats.
To Greenwich: Tunnel beneath the Thames; detail of its hardware; view from the lift.
Air transport hub...
London from the plane, early morning; At Heathrow refugees are not unexpected.
Click on photo to see larger version.
Back to news page.
© Cris 1998-Y2K
updated 1998/12/01