Cris's News: the trip to India in 1998
I am back from my visit to the CSE Dept. at IIT Bombay.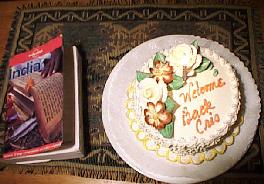 Below are little pictorial collections that complemented my sporadic email reports.
Thanks for the Tools: Raśl Martin: Sony DSC-F1 digital camera (Nikon and Olympus used for 35mm shots, scanned via Kodak PhotoCD). Prof. Rick Adrion: Mac PowerBook 1400c. The CSE Dept. IIT Bombay and CS Dept. UMass-Amherst: equipment and connectivity. Welcome back cake: the Coopers.
© Cris 1998-Y2K
updated 1998/12/02