Refereed Publications
L. Molesky, and K. Ramamritham, "Recovery Protocols for Shared Memory Database Systems", 1995 ACM SIGMOD International Conference on the Management of Data May, 1995 pp. 11-22.
L. Molesky, and K. Ramamritham, "Recoverable Data Structures for Supporting Parallel Database Applications", First International Workshop on Parallel Processing, December 1994.
L. Molesky, C. Shen, and G. Zlokapa, Predictable Synchronization Mechanisms for Multiprocessor Real-Time Systems, The Journal of Real-Time Systems, Volume 2, 1990, pp. 163-180.
L. Molesky, K. Ramamritham, C. Shen, J. Stankovic, and G. Zlokapa, Implementing a Predictable Real-Time Multiprocessor Kernel - The Spring Kernel, extended abstract, IEEE Workshop on Real-Time Operating Systems and Software, May 1990.
Recent Technical Reports
---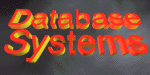 Back to the database home page.